The Princeton School on Science and Global Security, launched in 2020, trains next-generation scientists and engineers from around the world in technical perspectives on understanding, reducing and ending the threat from nuclear weapons. The goal is to provide skills and insights that participants can use in their own research, encourage and inspire them to investigate new ideas to advance global security and a safer and more peaceful world and to foster an international community of such researchers.
The School is organized by Princeton University's Program on Science and Global Security (SGS), part of the School of Public and International Affairs.
The meeting includes presentations by invited graduate students, post-doctoral researchers and established researchers on topics such as fissile materials, verification, emerging technologies and missile defense. It also includes interactive learning experiences and tutorials, including how to understand and engage with nuclear weapon policy-making processes.
How to apply?
Ideally, participants should be graduate students or post-doctoral researchers in natural or applied sciences, engineering, or mathematics. Postdoctoral applicants typically will have received their PhD within the last three years, although people interested in changing career trajectories are also welcome to apply. 
To strengthen diversity in the science and global security policy field, the School on Science and Global Security encourages applicants of every gender, race, ethnicity, religion, sexual orientation and socioeconomic status.
Applications for 2022 are now closed. Applications will open in January for the 2023 School on Science and Global Security School. Please, reach out with any questions to sgs-school@princeton.edu. 
History
The Princeton School on Science and Global Security traces its origins to the international School on Science and World Affairs organized by the forerunner of the Program on Science and Global Security and the Moscow Institute of Physics and Technology held over eight days in September 1989 outside Moscow. Princeton hosted the second International Summer School on Science and World Affairs in August 1990. The schools focused on nuclear disarmament and global environmental issues. The two schools grew out of discussions between the US physicist Frank von Hippel and the Soviet physicist Roald Sagdeev about the lack of a younger generation of Russian scientists knowledgeable about arms control issues. These discussions also led to the publication of a new international journal, Science & Global Security, with an initial editorial board of US and Soviet scientists.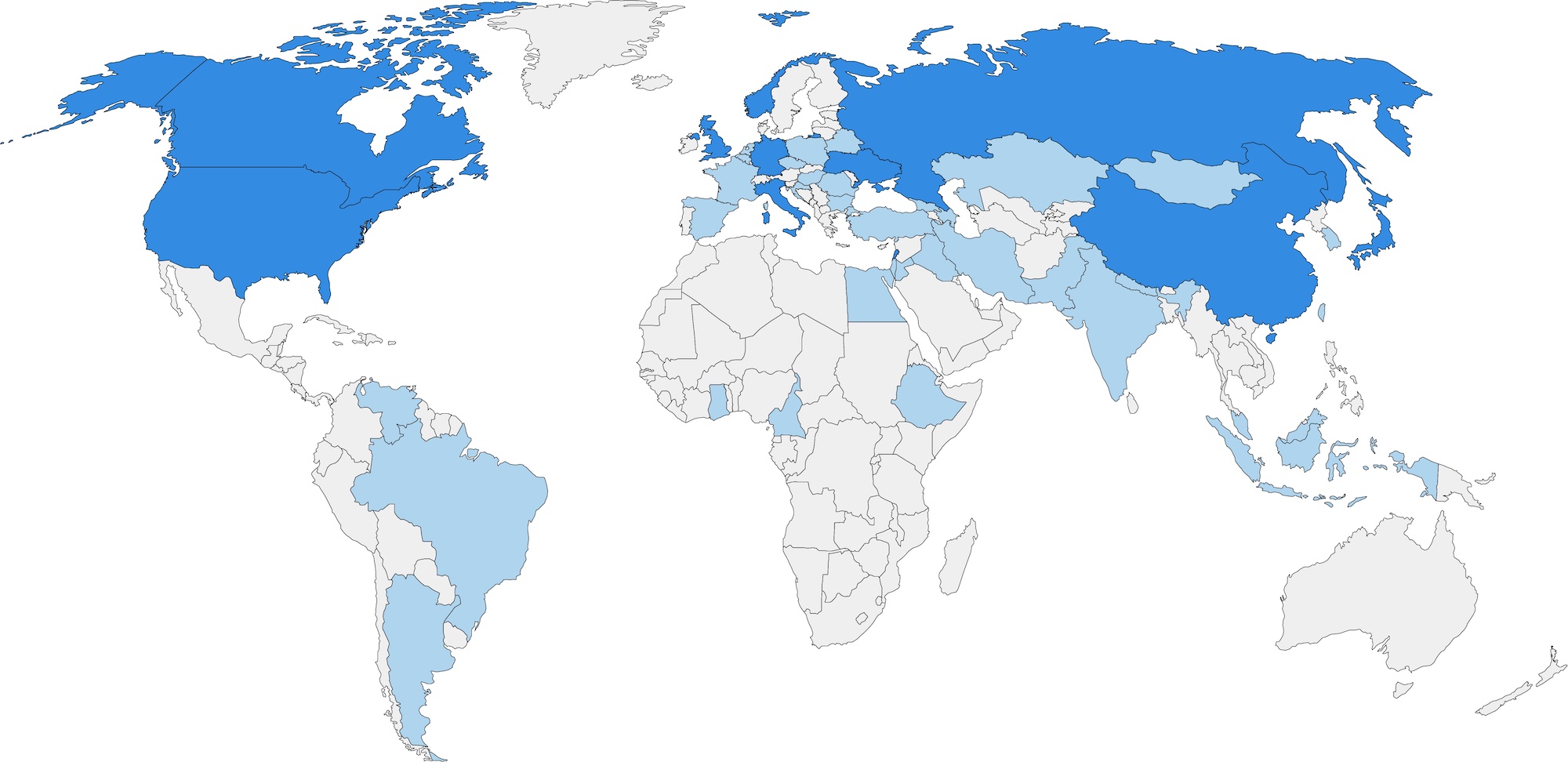 Host countries (darker blue) and country of origin of participants (lighter blue) of previous Summer Schools.

The third Summer School was hosted in Moscow by the newly established Center for Arms Control, Energy, and Environmental Studies at Moscow Institute of Physics and Technology in 1991.There were small Chinese delegations at each of the first three Summer Symposiums and as a result the 1992 Summer School was held in Shanghai, hosted by the Center for American Studies (CAS) at Fudan University. It was organized together with the Union of Concerned Scientists (UCS) which took lead responsibility for future meetings. These meetings became known as the International Summer Symposium on Science and World Affairs.  Since the first meeting in 1989, these gatherings have hosted over 500 scientists and researchers from over 40 countries.